Today, AllAboutLean.com turns two years old! Exactly two years ago, on my first day as a professor, I started blogging about my favorite topic: lean manufacturing and its history. It's been a great time so far! I have learned tons of new things about lean, have had many good interactions with my readers, and have enjoyed writing this blog immensely. Thank you all for the interest in my writing. I hope it helped you organize whatever processes create value for your company and hence also for you! Time for another look back:
Selected Praise
Many of you were kind enough to leave comments on my posts with questions, additions, and sometimes even praise. Below is a small selection of some of the positive feedback I've received. To everybody who commented, regardless if mentioned below or not, regardless if here or on LinkedIn, Twitter, Facebook, or elsewhere, thank you!
Bravo! No cookie-cutter solutions to problems that do not exist. Good thinking, good writing. This blog is quickly becoming a VA part of my routines, for which I make time. Thanks (by Brian Peshek)
This is really a good post I am looking for a long time ,pls keep doing this good thing for ever I really love all your posts (by Felix)
Great job, keep on going (by Robert)
Articles of great inspiration, thank you. (by ingfl)
Thank you for your blog posts which really make me think. (by Pedro)
We look forward to your final post [on bottleneck detection] with your favorite method. (by LeanLab from the multilingual lean blog LeanLab)
Thanks for this once again great article. (by Johann Anders from the German language lean blog Sehen Lernen)
Chronological List of Updates and Changes
Since last year – besides blogging at least 1000 words every week – I had some changes and updates. Let me give you an overview:
In October 2014 I translated, transcribed, and subtitled a great video by Prof. Peter Kruse with the Eight Rules for Total Gridlock in Organizations.
In December 2014 I added a page with legal blah-blah. That page serves no purpose for you – unless you like reading legal fine print in German and English – but is necessary to protect myself from liability issues. So far nothing has happened. Let's hope it stays that way.
In February 2015 I subscribed to a stock photo site, Fotolia. Since then I feel my articles have much more spiffy images.
In March 2015 I added a glossary with almost 200 lean-related terms. Different from other glossaries, I often add my opinion to help you separate the useful from the buzzwords. This list is continuously expanding, as I always find more terms and abbreviations related to lean floating around. If I missed one, let me know!
In May 2015 I followed a helpful suggestion from LeanLab and started publishing my blog posts on LinkedIn groups and other social media sites. The number of clicks on my blog doubled within a month 🙂 , and I have much more interaction with my readers on these sites.
In July 2015 I added a page listing all posts and pages in chronological order. This page is updated automatically.
In July 2015 I also signed a book contract with CRC Press on my favorite topic, manufacturing history. If everything works out, the book will be available by the end of 2016. More updates sure to come on this site!
In July 2015 I took a major step and moved my site from web servers in the USA (at FatCow) to web servers in Germany (WebGo24). The move went relatively smooth, my site was unavailable for only ~1 day while the name servers updated around the world. Since I forgot to set a flag within WordPress, Google did not index my pages, and for a week AllAboutLean.com did not exist in Google search. But all is fixed now (I hope 😐 ). The American legal system can potentially be quite expensive, especially if you are not American. German law is less risky for me, hence the decision to move to Germany to make this from a legal point of view a fully German-owned and operated site.
The European Union decided to protect your privacy by creating a EU cookie directive – and it feels like it was designed for a 1995-era Internet Explorer. Additionally, nobody is sure how to interpret the law, hence it is a mess. In any case, since July 2015 there is a small banner at the bottom of the page asking you to click OK for this site to use cookies. However, my recommendation is if you are worried about that, just set up your browser to block cookies or delete them automatically after the session. As for ads, you can use AdBlockPlus.
Most Popular Posts
Below are the top ten posts and pages of AllAboutLean.com within the last twelve months, based on  the number of page views.
Strong Exponential Growth
The number of visitors and number of views per day is also increasing nicely. Last year I had a solid exponential trend in the number of clicks per day. Back then I was wondering if my blog would be able to maintain this strong growth. As it turns out, it did!
While you should never really predict an exponential trend far in to the future, I applied an exponential model to the data of last year. This model predicted around 700 clicks per day for August 2015. As it turns out, we had around 700 clicks per day in August, and still have exponential growth 🙂 . The number of clicks, in average, doubles every 5 months!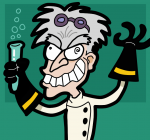 Continuing this exponential trend further into the future, I am still on track to overtake Wikipedia by 2019, and Facebook and Google by 2024. By 2026, each and every click on the Internet will be on AllAboutLean.com. At the latest, by 2030 world domination by AllAboutLean.com is certain. The numbers in the model are very precise. Now we just need to keep this exponential trend going for the next 15 years 😛 .
So, my dear readers, please keep on reading, commenting, and – above all – using lean manufacturing to organize your industry!