As the name says, this site is all about lean manufacturing. But, what is lean? How do we define lean manufacturing? After all, since most of industry talks about lean, we should have a definition to make sure that we're all talking about the same thing. Unfortunately, a) we do not have a good definition of lean, and b) not everybody means the same thing when they talk about lean. So, what could lean manufacturing mean? Let's have a look at the different definitions out there:
The Origin of the Term "Lean"
English language publications started to note the Toyota Production System around 1975. Soon thereafter, the term "Lean Production" was coined by John Krafcik in his 1988 article, "Triumph of the Lean Production System," and it has been used in industry ever since. After a slight delay, the term "Lean Manufacturing" also appeared.
From 1998 onward, Six Sigma also took on the term "Lean Six Sigma," although in my opinion they did not really add anything valuable to it. Nowadays, "Operational Excellence" is pushed as a replacement for the aging term "Lean Production," although I still prefer lean. The chart below gives you an overview on how often the words are used in literature (Data from Google Ngram viewer)
Selection of Lean Definition
But what does Lean manufacturing mean? Below are some definitions of lean found in literature and the web. In pretty much all instances there would be many more similar definitions out there. However, for the sake of brevity, I usually cite only one or two of them.
Lean is Whatever Toyota Does!
Lean manufacturing is the term most commonly used to describe the Toyota Production System (TPS). (emsstrategies.com)
"Lean" is the set of management practices based on the Toyota Production System (TPS). (Mark Graban Lean Blog)
Well, these definitions are mostly correct. Pretty much everything we do in lean is a (rarely better, often worse) copy of the Toyota Production System. The Western world added a few new aspects to lean, but very few of them are actually useful (see, for example, how the original seven types of waste from Toyota bloomed into up to 31 types of waste).
However, while the definition is correct, it is of little use. For one thing, what is good for Toyota is not necessarily good for everybody. Toyota is a mass-producing auto company. If a small custom-made machine tool maker would use methods identical to Toyota, it would be anything but lean, and the methods would probably kill the company.
Secondly, while it is okay to say that lean is whatever Toyota does, it does not help at all in figuring out what exactly Toyota does! But luckily, here are a few more lean definitions for you:
Lean is 5S, SMED, Kanban, JIT, … !
This is (luckily) not a definition I have found written down. Unfortunately, when talking with people in industry and academia, all too often it feels like that is some people's definition. "I'll just do kanban and JIT, and then I will be lean. Or better, I'll have somebody else do it for me."
Lean is not just a set of different tools. Just as a car is not just a pile of parts. Michelangelo was not just someone with a chisel. It is the art of using these tools that makes production lean.
While the reduction of lean production on its tools is luckily not an official definition, the reduction on one tool is unfortunately all too common: waste elimination!
Lean is Elimination of Waste!
Lean manufacturing or lean production, often simply "lean," is a systemic method for the elimination of waste ("Muda") within a manufacturing process. (English Wikipedia, but also similar on French, Portuguese, and Dutch Wikipedia)
Lean manufacturing involves never-ending efforts to eliminate or reduce [waste] in design, manufacturing, distribution, and customer service processes. (BusinessDictionary.com)
Defining "lean" as reducing waste is actually surprisingly common. Of the definitions I have come across, most are using waste elimination to define lean. Maybe it's because of the word "lean" itself, which, among other things, means "containing little or no fat."
However, reducing lean production solely to elimination of waste is in my view also far too short-sighted. Lean production is so much more than simple elimination of waste.
Lean is Fast, Efficient, and High Quality!
Lean Production refers to the both economical and time-efficient use of factors of production resources, personnel, materials, planning, and organization in the context of all company activities. (Gabler Wirtschaftslexikon, translated by me)
Defining lean as being fast, efficient, and high quality is just the other side of elimination of waste. Besides, how do you, using this definition, distinguish lean from other types of production systems? Pretty much every manufacturing entity since the dawn of time aimed to be efficient.
For example, Henry Ford's assembly line also was geared toward efficient use of resources and time through relentless elimination of waste. Therefore, defining lean through efficiency and waste elimination would mean that Henry Ford invented lean production. While Ford certainly contributed to the ideas at Toyota, he did not have a lean production system!
Lean is Flow!
Lean manufacturing is a management model focused on creating flow to deliver maximum value for customers, using the minimum resources necessary. (Spanish Wikipedia, translated by me)

Another concept often associated with lean is the idea of optimizing the flow of material. This is also found at least partially in many definitions of lean. While it is an important aspect of lean, it is in my view also far short of the true ambitions and values of lean production. Similar to waste elimination or efficiency, one aspect of lean is not enough to define lean.
Lean Is a Culture!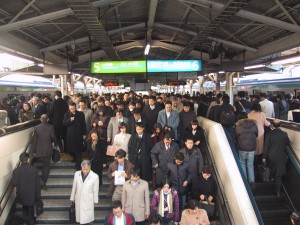 In discussion with other practitioners, yet another set of definitions tries to define lean as a culture. It certainly is a culture, but it becomes rapidly fuzzy when one tries to define what kind of culture it is. Defining the culture of lean inevitably falls back to any of the above definitions of eliminating waste, increasing value, or adding flow.
Lean is Adding Customer Value
The core idea is to maximize customer value while minimizing waste. (LEI Institute)
Lean is the permanent struggle to flow value to one customer. (Mike Rother)
Yet another set of definitions goes toward adding customer value. While I like the customer as part of the definition, he is certainly not the only stakeholder. The latter definition by Mike Rother also includes flow, and importantly, the element of continuous improvement. However, again we find the focus on eliminating waste in order to create value.
Even including continuous improvement, flow, and elimination of waste (or in Japanese kaizen, mura, and muda), we still fall far short of what lean really is. For example, in none  of the definitions above have I found the elimination of unreasonableness, which is the third of the three evils of manufacturing. Also the entire concept of respect for people is missing completely.
How Toyota Defines TPS
Well, after all these sometimes-better, sometimes-worse attempts by Westerners to define lean, we can only agree that it came originally from Toyota, although this does not help us. Well, let's have a look at how Toyota defines its own Toyota Production System. I found the following three definitions by Toyota themselves.
A production system which is steeped in the philosophy of "the complete elimination of all waste" imbuing all aspects of production in pursuit of the most efficient methods. (Toyota Global)
The first definition is the basic "eliminate waste" definition that we have seen many times above, nothing new here.
The practical expression of Toyota's people and customer-oriented philosophy is known as the Toyota Production System (TPS). (Toyota Australia)
The second definition not only has customers included, but also its own Toyota people. I like that. However, as for the definition of the Toyota Production System, even Toyota says that it is whatever Toyota does.
The Toyota Production System is built on two main principles: "Just-In-Time" production and "Jidoka." Underlying this management philosophy and the entire Toyota production process is the concept that "Good Thinking Means Good Product." (Toyota Georgetown)
The third definition uses the two main pillars of the Toyota Production System: JIT and Jidoka (Autonomation). However, in my view, these are only two aspects of the whole Toyota Production System. It seems even Toyota does not agree on its definition of the Toyota Production System.
Besides, from my point of view, they are not even the most important ones. I believe they are the pillars of Toyota because these two originate from the Toyoda clan, and not one of its employees like Taiichi Ohno. My gut feeling is that Toyota likes to praise its own bloodline and is working on legend building.
So Which Definition is Right?
Good question. Just as an iterative brain teaser, here is the definition of definition:
Definition (nounˌde-fə-ˈni-shən\): a statement that describes what something is.
To define something, you would need to make the definition clear enough to distinguish it from other similar things. However, most of the definitions above clearly fail at distinguishing it from almost all other production systems. Most of them would be, for example, perfectly valid for Henry Ford and his assembly line, or pretty much any production system developed after the Industrial Revolution.
Additionally, none of the above definitions really include the respect for people, which I consider one of the important elements of lean. Other important concepts like reducing unevenness (mura) and overburden (muri) are also missing. Therefore, in my view, none of the above definitions really capture  the essence of the Toyota production system and lean production.
The Blind Men and the Elephant
Overall, it reminds me of the fable of the blind men and the elephant. A group of blind men touch an elephant to learn what it is like. Each one feels a different part, and in the end they disagree completely on what an elephant really is.
Conclusion: The Definition of Lean Production
Okay, now that I have criticized all the other definitions above, it is time for my own definition … except …
I don't have one! 
Gosh, that's embarrassing! Despite my 20+ years of experience in lean, I cannot come up with a definition that I feel comfortable with. Whenever I try I just come up with something similar to the many definitions above. And whenever I add respect for others, it sounds cliché.
After all this lengthy discussion, we only find out that we have no good definition! Most definitions are too detailed about some methods that – except for their modern Japanese names – have been known a long time. The rest is too fuzzy and vague and reads like a typical company mission statement (which in general says "do good" using fancy words while trying not to offend anyone). However, my overall conclusion on this mess of definitions is pretty clear:
We haven't understood yet what lean production really is!
We don't know what is meant by lean manufacturing.  We don't know the meaning of lean. Probably all the difficulties we have in implementing lean production and all the failed projects with only a few successes in between probably stem from this lack of understanding. Even people who instinctively do things right have a hard time explaining it to other people. It is somewhat comforting that while Toyota does it right, even they cannot define it well.
In any case, I hope I have not confused you too much with this mess of definitions. Now go out and organize your industry, even though you may not be able to define what you are doing 🙂 .
P.S.: The idea for this post was initiated by an e-mailed question by Troels Andersen (Differience Consulting, Copenhagen, Name mentioned with permission). By the way, if you have a question related to lean, feel free to ask me!