One successful approach to leveling is one-piece flow leveling, which I would like to talk about today. Another successful approach is capacity leveling. These can also be combined. (But please do yourself a favor and stay a way from a longer fixed repeating schedule EPEI leveling.) As the name already says, you should drive your lot size toward one. In addition to one-piece flow, this approach is also known as single-piece flow or continuous flow.
The Basics: Lot Size One
The Traditional Approach – Large Lot Sizes
The traditional thinking in manufacturing systems is that changeover times are a waste. This is correct, they are a waste.  However, the traditional conclusion is to do as few changeovers as possible, resulting in large lot sizes. Unfortunately, this will lead to an even bigger waste: excess inventory! Additionally, it will work against smoothing the production and all its associated benefits. Hence, the example shown below is not very lean.
The Wrong Way: Fixed-Sequence EPEI Leveling
One approach often used to change this is to create a repeating pattern. I have explained the details of this approach in my post on the Theory of Every Part Every Interval (EPEI) Leveling, Also Known as Heijunka. However, I have explained even more why this usually fails (The Folly of EPEI Leveling in Practice – Part 1 and Part 2 ). Overall, I would like to strongly advise you against it. Nevertheless, for completeness sake, a possible solution is shown below, even if they rarely work in practice.
A Better Approach: Lot Sizes for Daily Demand
A much better approach is to reduce lot sizes so you produce every day what you need that day. Just to make sure: You do NOT take the daily average of your weekly/bi-weekly/monthly demand. It is truly what you need to produce today based on the best available data, forecasts, and demands  you have today. This includes effects like:
Rush orders
Canceled orders
Changes in demand forecasts
Suppliers that did not deliver
Raw material that turned out to be defective/wrong/missing
Completed products that turned out to be defective/wrong/missing
Customers begging/threatening/yelling for urgent parts
Higher-up managers telling you what you must produce right now
and many more.
Of course, the fewer of these effects you have, the smoother your production will be. But let's be realistic, you will have at least some of these effects. Based on this best available data (if you can call it that), you should produce every day what is most urgent.
Assuming you cannot yet do one-piece flow, your resulting production plan may look like the image below. Produce whatever is most urgent today, where the lot size is the daily demand of this product.
Of course, for practical reasons, you may still want to pool your exotic parts in larger lot sizes and make them, for example, once per week. The violet square and the brown diamond in the example above have a lot size one. Depending on your system, you may want to pool these together across multiple days and make, for example, three of them once per week. It all depends on the ability of your system.
The Lean Approach – Lot Size One, Well Mixed
However, your goal should be to have lot sizes as small as possible, ideally a lot size of one. Furthermore, you should mix your lot sizes as much as possible. One-piece flow leveling does not mean only the ability to do lot size one, but also the mixing of the production sequence so that there are no two similar parts produced together. Hence, it is not the ability to do lot size one, but actually doing only one product before changing to a new product.
Using the daily schedule from above, the result may look like the schedule below.  The total quantities of the parts are still the same, but the sequence is intentionally well mixed.

How to Create the Mix with Lot Size One
I have seen some Excel tools to make a sequence as mixed as possible. If you have one of these (or can make one yourself), it may help in your scheduling. However, in my opinion, it is not strictly necessary. The difference between a perfectly leveled sequence and a nearly perfect sequence is, in my opinion, very small. Even in the example above, you could imagine different patterns that are also similarly leveled. Just try to mix up the sequence as much as possible.
However, here is a basic structured approach to create a good mix that works for products with few common parts (Alternative approaches are available for products that have common parts, which I may cover in another post). Let's assume that the total production quantity looks like below, producing a total of twelve parts within the planned period (e.g., one day):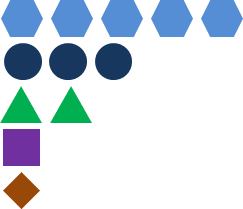 We start with the largest volume (the blue hexagons). We want to produce five and have a total of twelve slots. Hence, dividing 12 by 5 results in every 2.4th slot being a blue hexagon. Starting with the first empty slot, this would put a blue hexagon in the 1st, 3.4th (rounded to 3rd), 5.8th (rounded to 6th), 8.2nd (rounded to 8th), and 10.6 (rounded to 11th) slot. The full pattern can be seen further below.
Next we take the dark blue circles. Dividing 12 by 3 circles gives us a circle every 4th slot. Starting with the first empty slot (number 2), we get blue circles in slot number 2, 6, and 10, except that 6 is already taken by a blue hexagon. Hence, instead of in the occupied slot 6, we put the circle in the nearest free slot, in this case slot 7 (although slot 5 would also have been possible).
Similar with the green triangles. Dividing 12 by 2 triangles gives 6 slots between triangles. The first empty slot is 4, hence there is a triangle in slot 4 and 10 – except that slot 10 is occupied. The nearest free slot is number 9, hence the triangles go into slots 4 and 9. The last two exotic pieces then take up the remaining free slots. This gives step by step the one-piece flow pattern as shown below.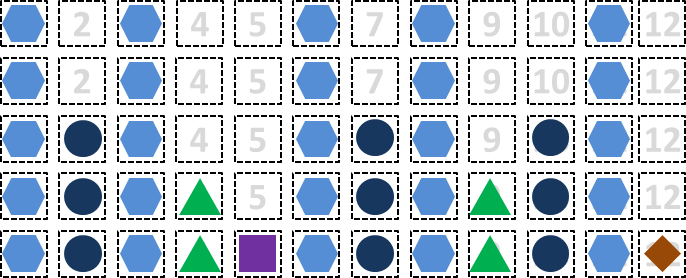 Similar calculations can easily be done for other production quantities, and can also easily be implemented in Excel or a similar program.
More Next Week
This post describes how one-piece flow leveling works. Please note that one-piece flow also often refers to a zero (or at least low) WIP approach. In the next post I will discuss how to best implement this one-piece flow leveling, and also what else there is in leveling. In the meantime, go out and organize your industry!
Overview of Posts in this Series about Leveling
Introduction to One-Piece Flow Leveling – Part 1 Theory
Also, Michel Baudin wrote a post on Theories of Lean and Leveling/Heijunka on his blog with a review of my series on Leveling. Some of his comments helped me to update and improve the above post. Check his post out for further details on Leveling.