In many lean books and other writing, it is often recommended to use a pencil for certain tasks as, for example, the A3 report. Yet, I have seen very few uses of pencil in lean manufacturing in the Western world. Most of the documents are computer printouts based on Excel, PowerPoint, or Word. The few handwritten documents are usually done in pen (see also my post on The Advantage of Handwritten Data on the Shop Floor).
In this post I will look into why almost nobody uses pencils and why it would be good to use more pencils. I myself am also guilty of that, but I plan indeed to use more pencil in the future.
The Mighty Fountain Pen
In public perception, the ultimate writing instrument is the fountain pen. It is the weapon wielded by the mighty. It is designed to leave a mark for eternity. Many people prize their high-quality fountain pen. There is even a Fountain Pen Day on the first Friday of November.
The most expensive pen on Amazon.com at the time of writing was a (in my view, rather ugly) Montegrappa Chaos Limited Edition 18K Gold Fountain Pen Fine Point for an eye-popping $65,700.00 – but it comes with free shipping 🙂 . As usual with such high-priced products, the reviews are quite entertaining. Still, not a pen for me. With that money, I'd rather buy a car.
Even I use a (red) fountain pen for grading exams, to show respect for the significance of the document I am checking. My blue fountain pen, however, I use very rarely, simply because I usually have a normal pen closer nearby. Last time I used it was for an image for this blog post. Before that I used it to sign my real estate purchase contract.
Most of you are probably writing with less fancy pens. Most common are ballpoint pens, felt tip pens, or rollerball pens. Quick and easy. In any case, all of them are permanent!
Why a Pencil is Better in Lean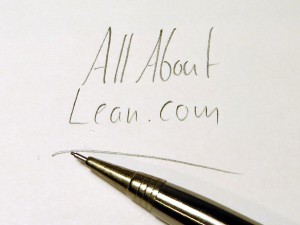 While it is often useful to write with a permanent pen (e.g., in many exams it is even a requirement), it is difficult to change afterward.
Yet, lean is all about change! Continuous improvement means continuous change. Very little is permanent. What may be a good way today may be old hat tomorrow. This applies to both improvements and setbacks.
For example, I recently did three days' worth of workshops (plus preparation and wrap-ups). When it came to the implementation, we received news that upper management decided to do a fundamental change in the organization. As a result, the entire project was no longer needed 😕 . What a  bummer … but that's life.
Also, as per my previous post The Advantage of Handwritten Data on the Shop Floor, you could do this on a computer. However, it goes much faster and easier with pen(cil) and paper. It sounds cliche, but using a computer requires a lot of your brain power, leaving less for your creativity.  For example, a processor gave students the task of designing a barbecue grill. Some teams had to do it on computer, some in pencil. Overall, the pencil designs were much better and more creative than the computer ones.
Where to Use a Pencil
In lean, many documents are continuously updated. A prime candidate is the A3 report for problem solving. It is highly recommended to do this in pencil. It is highly unlikely that someone can do an A3 correctly from scratch, as it usually goes through multiple rounds of revisions. Therefore, data is continuously added and erased.
Another good candidate is a value stream map. Every time you walk through the shop floor, you will find additional data that goes in and other data that has to be erased. If you want to use a value stream map for improvement, use pencil – although most value stream maps I have seen in the West were unfortunately done only to impress management, in which case you should just make it shiny.
Yet another candidate is work standards. This may be surprising. In the West, a standard is given from above and then rarely changed. In Japan, however, workers have much more freedom to influence, and especially improve, the standard. This is often done by adding additional points by pencil until the standard can be updated. Of course, you still have to make sure that the workers follow the new standard (which is often the part skipped in the Western world).
Finally, reports and documentation on the shop floor can also be done in pencil. This writing and erasing can be very useful for the regular status updates in the team corner, for problem solving, and for many other frequently changing documents.
Why Westerners Use Pens and  Japanese use Pencil
In the Western world, I have the feeling that a pencil is often looked down upon. However, in Japan, people write quite frequently with a (mechanical) pencil. I think this is due to the difference in school education.
In Germany, where I received my education, we started writing with a fountain pen. In the United States some schools also require a fountain pen, although others also use pencil. Some schools even have a pen license where children with proper pencil handwriting are allowed to graduate to a fountain pen. Other schools simply forbid ballpoint pens and other pens. With these rules, you grow from being a kid with crayons to being an adult with a fountain pen. Overall, much of the writing in Western schools emphasizes fountain pens.
In Japan, however, much of the writing in school is done with a pencil. A saying in Japan is that your writing reflects what your heart looks like. Using a pencil makes it easier to erase mistakes – and to provide a flawless handwriting, even if it is not on the first try.
As a result, Japanese have much less bias against pencil, and feel much more comfortable using it. Hence, they have no problem with creating documents in pencil. In the Western world, pencil seems to have a dirty and uneducated feel, and people are much more hesitant to use pencil for documents someone else can see.
This can even be extended to a wider view of the difference between lean in Japan and lean in the Western world. In Japan, it is absolutely okay to fix, improve, and change until the result is flawless. In the Western world, the goal has to be achieved on the first try, even if there are a few smudges and spots left at the end.
Amazing! The whole difference between Japanese and Western lean boiled down to what we wrote with at school!
Hence, merely using a pencil will magically transform you into a lean expert … or maybe not. Actually, probably not.  At best, it is a tiny nudge in the right direction. In any case, I am just happy that (with the help of my wife) I stumbled on this beautiful nugget of a cultural difference between Japan and the West 🙂 .
My Pencil Resolution!
I have to admit that up to now I have rarely used pencils. Having a proper German education, I was conditioned to fountain pens, which my laziness downgraded to ballpoint pens. But I made myself a resolution: From now on I will write more often in pencil.
After a bit of research, I found out that the best mechanical pencils are (unsurprisingly) from Japan. I liked in particular the Uni-ball KuruToga Mechanical Pencil. This pencil rotates the mine while writing, and hence avoids any loop-sided-ness. I went for the 0.5 mm HB medium hardness. I also went for Japanese Pencil Leads, which supposedly break much less than Western mines. Now I just have to find out how not to make a mess in my shirt pocket …
Of course, you can find even better stuff in Japan, where, for example, mechanical pencils with an extremely thin 0.2 mm lead mine are popular. But these are difficult to find outside of Japan, and I am not going to fly to Japan just for a pencil. But next time I am there …
In any case, I hope the above musings on pens and pencils were interesting to you. Maybe you too can grab a pencil  instead of a pen next time, before you go out and organize your industry!