In a recent discussion on setting up a new line, a question came up: Should we make a single line (or generally a production system), or should we establish two (or even more) separate independent production lines? There are usually a handful of arguments for either side, and cost is only one of them. Sometimes the issue is clear, but sometimes you have to judge the different factors to decide. This post will give you an overview of the different factors that are relevant. Let's dig a little bit deeper on how to approach this issue.
The Initial Situation
Assume you have to make more of a product or a product type. This could be a completely new type of products (i.e., a new production system), or a larger production volume for an existing type of products (i.e., you are producing them already). In any case, you need more capacity. If you already have a line, maybe you could expand the existing line or build another line. If it is a completely new product, you could establish one or two lines (or even more).
This is influenced if you make multiple (similar) products: Do you make one large line that can produce all, or do you make dedicated lines that can produce only one product (or a subset of your product group), with multiple lines dedicated to different product subgroups?
Cost of a Second System
Probably one key factor is cost. But this is a multi-faceted aspect. If you have two lines, you need twice the equipment, twice the tools, and twice the floor space. However, depending on the situation, this is probably not double the price tag, as the different machines could be smaller and may not be as expensive. For example, if you need an oven, two smaller ovens are not twice as expensive as one big oven. At the minimum, you could get a discount from the tool maker for buying two ore more of the same tools. Overall, a single larger system can usually produce items cheaper than two smaller systems.
Fluctuations
One big advantage of one larger system is the economy of scale, especially reduced fluctuations. While the absolute fluctuations of a larger system will be bigger than that of a single system, the relative fluctuations are reduced. Let's take, for example, an inventory that is managed using a reorder point method. The image below on the left shows a single large system, where the inventory fluctuates between the reorder point (the safety buffer) and the inventory limit. Using the same material at different locations makes the absolute fluctuations at each location smaller, but the combined fluctuations at both locations are larger. You need, in total, more safety buffer, and more inventory between the reorder point and the inventory limit. Altogether the combined average inventory of two separate systems will be more than the average inventory of a single system with twice the production volume.
This applies to many different fluctuations related to your production system. You need to establish two logistic chains. If it is in the same plant, the logistics only differ inside of the plant. If it is in different locations or on different continents, you need to create two separate logistic systems. This will increase your overall work in progress, as you now have material fluctuations on two (or more) different locations. This may not be twice the inventory, but providing material at two locations needs more material than providing at one location. Similarly, you may need slightly more workers to cover the fluctuations of absences. You may also need slightly more maintenance personnel. Overall, the management of fluctuations is usually a big reason for having one system instead of two systems.
This is also the primary reason that Toyota pushes for flexible assembly lines that can produce multiple models, as this allows them to merge multiple products in one line and reduce fluctuations proportionally. If product A is popular and B not so much, then the line can handle it. If a little bit later B is now popular and A not, then the line adjusts and can also handle this. Usually a larger system provides more flexibility, but please note that there are exceptions for batch processes. A larger oven (or similar batch process) can process more products, but this may require larger lot sizes. And lean manufacturing does not like larger lot sizes. It may be better to install two (or more) smaller ovens that allow you to process in smaller batches and hence smaller lot sizes. This reduces your inventory and has many benefits that are hard to measure but are still substantial.
Management Effort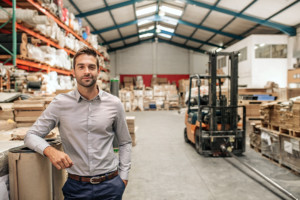 You definitely need more management effort and attention, as someone now needs to manage and maintain two production systems. Please do not underestimate this, both for the initial set up (e.g., calculating the number of kanban) and the effort in running the line. If the lines are in different locations, two managers/supervisors need to learn how to manage the line. If they are in the same plant, the same manager can handle both lines, which eases the learning curve, even though it is still more effort than a single larger line.
Benefit of Different Locations
One factor is the location. Do you have one production system in one plant, or do you have production systems in different locations? A common reason for having a second production system elsewhere is to be closer to the customer. This reduces delivery time and delivery cost. It may also make your production system more robust against human and natural disruptions. Having a second independent location elsewhere may make your production more resilient against natural disasters (earthquake, tsunami, …), plant disruptions (fire, strike, …) political upheaval (war, closure of borders, …). It may also give you brownie points with the political caste for producing "made in [a country],", both internationally but sometimes also within the same country (Made in Alabama?).
Capacity
Another major constraint is capacity. Can you fit all your products through a single production system? Or does the capacity of a single line no longer suffice to satisfy the customer demand? Often there are some workarounds like a capacity improvement, bottleneck detection, or simply additional shifts. But night shifts are more expensive, and it may be not economically sensible to improve capacity.
Summary
Usually, I try to go for larger systems to benefit from the economies of scale, unless there are reasons not to. Reasons for making separate production systems are if it is important to be close to the customer, or if the (reasonable) capacity is maxed out, or for political reasons, or a demand on robustness requires additional locations. I may also choose multiple smaller systems for batch processes if it allows me to process smaller batches and hence reduce the lot size. Now go out, build one (or two?) production systems, and organize your industry!
PS: Phil Ledbetter on LinkedIn added that different quality levels (e.g. Lexus vs. Toyota) may benefit from different lines, since the attitude towards the product needs to be different. Thanks, Phil!
PS2: Marco Dannerhill on Linkedin also added the very valid point of robustness. if one line breaks down, it is easier if you have a second one.