The kanban formula (or estimation) helps you determine the number of kanban. All of these should fit in the supermarket, hence the maximum in the supermarket represents all kanban. Many supermarkets also have a minimum inventory level. Unfortunately, there is little information on how to set the minimum. Time to take a deeper look on how to set and use the minimum level in the supermarket. In this first post I will look at how to use a minimum level in a supermarket. The next post will look at how to determine a good minimum level.
Introduction
A supermarket is the inventory at the end of a kanban loop. Whenever a part leaves, a signal is given to replenish this material. This signal is the kanban. Hence, the maximum inventory in the supermarket is the inventory represented by all kanban.
It is often recommended to also add a minimum level to the supermarket. This is usually helpful. The term minimum, however, is unfortunate and a bit confusing. The real "minimum" in a supermarket is zero. If you need parts, you should use any material that is in the supermarket until you run out.
What we mean here by minimum is more of a warning level. Reaching the "minimum" level should give you a warning that you run out of stock soon. Even though the name is a bit confusing, to stay consistent with pretty much the rest of the world, I will also call this warning level a minimum.
Hence, the minimum is a warning that you will be out of stock soon. This will give you time to react and prevent an actual stock out. This will give you time to do firefighting, even though I don't like firefighting much. Also, please note that the minimum is part of the total inventory limit represented by all kanban for this part type, not in addition to the total.
An Analogy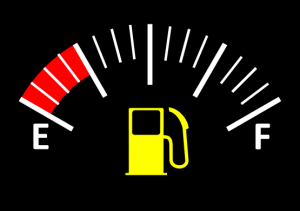 To illustrate this, let me give you an analogy that you are all familiar with: the gas tank in your car (or similar for your battery if you have an electric car). Usually this is displayed as a fuel gauge somewhere on your dashboard. This fuel gauge includes a minimum warning, sometimes called the reserve. If your fuel level falls below the minimum, a warning light will come on and there may be a warning sound. This gives you time to refuel before you are stranded.
However, if the warning light goes off when you have only three kilometers' worth of fuel left, then it is probably way too late. Hence, your minimum is too low. On the other hand, if the warning goes off if there is still half a tank of fuel, then it will be more annoying than helpful. In this case, your minimum is too high. Overall, the minimum level should be set so that you can comfortably reach a gas station without going too much out of your way. Finally, if your warning limit is set at 25% but it blinks five times a day, then your fuel tank is too small! The same goes for supermarkets.
Some people get really excited with adding a minimum and want to do more. Sometimes they add also a yellow area to indicate a pre-warning and a green area to indicate everything is fine. Frankly, I would advise against that. It may be a case of too much labeling, or too much 5S. Again, take your fuel gauge as an example. Do you really need a warning that there is "only 75%" of fuel left? Do you really need a yellow and a green area? If you have too many green, yellow, and red colors, as shown below, it confuses the image and makes people ignore warnings. In any case, don't expect shop floor people to pay attention.
What to Do If You Reach the Minimum?
If you reach the minimum, you have too few kanban with material of this part type in the supermarket. There are many possible reasons for that. It could be that you cannot produce due to lack of material. In this case, the issue should have been escalated already, but now is a good time to escalate again with even more urgency.
Another possibility is that the kanban are merely delayed due to other kanban of other parts being in front of them. This is much easier to fix. Simply fast-track the needed kanban to the front of the queue for production. Make sure to allow enough time for logistics to transport the material. Depending on the urgency, you may also escalate with logistics to accelerate the material delivery for these urgent kanban. If you have a prioritized queue for production anyway, put the urgent kanban in the queue for prioritized parts. In the example pictured, the blue balls have reached their minimum. As part of the escalation, two of the corresponding kanban are moved to the front of the queue for production. However, it can also be argued that moving one kanban would have been sufficient.
In the best case, you will find that many of the needed kanban are already in production and will arrive in the supermarket shortly anyway. Here, you probably don't have to do anything. The problem is already solved, and material will arrive before you run out. In the illustration here, the blue balls also have reached their minimum. However, there are already multiple blue balls in production, and no action is necessary.
There is a complication for kanban systems with a very long lead time. In such kanban systems, most kanban will be replenished at any given time. Depending on your minimum level, moving a kanban to the front of the queue for production may not be enough. It may be necessary to escalate by prioritizing products already in production. It may be necessary to move parts in production to the front of their respective queues and prioritize their production. This is also shown in the example below. Moving parts already in production will allow lower minimum limits. For systems with very long replenishment times, this may even necessary to avoid overly large minimums, which would result in too many minimum warnings. However, if you can, avoid moving material already in production. Depending on your system, this can increase chaos and can cause subsequent problems. It is also requires much more effort than merely moving a kanban card.

In my next post I will talk a bit more on what your minimum levels should be. I will also give a few more tips on when you should have a minimum, and how to fine tune the minimum. Until then, stay tuned and go out and organize your industry!
Series Overview