When improving a system, Western engineers love to take the technical approach and to optimize the machines and tools. However, at Toyota this is seen differently. At Toyota, they try to address a problem by first training the people, followed by improving the standards and the layout, before improving the equipment and finally twiddling with the design. Let's have a closer look at how Toyota is approaching improvements.
Introduction
There are different ways to improve a system or to remove problems. These different approaches can be grouped, and some structures are popular in the West. For example, when doing a fishbone diagram, it is often structured after the 4M: man, machine, material, method. Sometimes this is also expanded to 6M, with mother nature or milieu (i.e., the environment) and measurements. Even 8M (adding management and money) is possible.
You may be able to find solutions to your problem in any of these categories. If you are in the comfortable situation that you can choose your solution, Toyota recommends to go from man (training) to method (standards and layout) to machine (equipment) and finally to the product design (material). Of course, sometimes you do not have the luxury to choose from different solutions, and may have to go to, for example, machine right away. But if you do, following the sequence from Toyota is helpful.
This sequence of training-standards/layout-equipment-product design is not arbitrary, but is based on important factors like flexibility, speed, and cost.
Training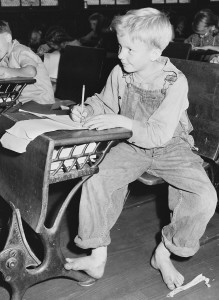 One of the easiest methods of improving a situation is by training the operators. And, Toyota puts a lot of effort into training. Compared to some other methods, training has the least impact on cost, and it is also very flexible. Training is usually connected to the use of a standard. This, of course, requires the standard to be good. Otherwise you may have to improve the standard.
Standards and Layout
The next possible step is to improve the standard. For more details on standards, see my 9 post series on standards. This is still comparatively easy to do. However, in order to change the standard, you do have put in quite a bit of effort to make sure that the new standard is actually better than the old standard, not just different or even worse.
Depending on the standard it may take a few people a few days to create a better standard. Do not forget the PDCA! If for some reason it turns out that the new standard is actually worse, it is a bummer but not a disaster. Changing a standard can (and should) be done regularly, and you have lots of flexibility to try things out.
You also need to train the operators in the use of the new standard. This may not require a full training, but maybe just an update. Nevertheless, you (or someone) should verify that the operators use the new standard.
Toyota also considers changing the layout something that can be done quickly and easily. Toyota actually aims to build manufacturing lines that can be rearranged quickly. See my post on this for more details. Especially for manual assembly of smaller parts, some companies opt to have all machines and tables on wheels, with flexible connections to electricity and pneumatics. If you want to rearrange the line, just unlock the brakes and unplug the gear, move the stuff around as you want, and then connect the lines again and lock the brakes. Hence, changing a line layout is something Toyota likes to do frequently, and it can be done even on a trial-and-error basis.
Equipment
Now we finally get to change the equipment. As you can imagine, it becomes more expensive, will take more time, and becomes harder to undo. Like many methods in lean manufacturing, it is quite obvious once you start to think about it. To improve a machine, you also need to do a project. The difference from a project to improve the standard is that now you also need (more expensive?) engineers and technicians. You also need new parts or even new machines. It may also take longer. All of this makes it more expensive.
This does not yet even include the possibilities that the equipment modification may fail – while to me it appears that Western managers often expect any project to be a success, and failure is not an option. Well, in reality projects do fail. You may have to backtrack, do some trial and error, and may need multiple iterations to achieve the goals. PDCA is highly relevant for machine improvements, too! All of this, unfortunately, costs money and makes the whole process more expensive than simply changing the standard.
New, or at least different, equipment also may need an update to the standards, and an update to the operator training. Hence, all of the expenses for changing standards come on top of the (multiple) machine change expenses. Besides, if you did not train your operators properly in the use of a good standard in the first place, any equipment change has a high change of failing, and in the worst case it may even injure a worker or a customer. Standards and training are the prerequisites for using any equipment in manufacturing.
Product Design
Finally, there is product design. Some improvements can be made and problems avoided through product design. You probably have heard of tools like Poka Yoke, or Design for Manufacturing and Assembly. A good product design can avoid a lot of problems. That's why it should be done when the product is designed. Doing it for an existing product may also work, but now it becomes more expensive. A changed product may require a change to the equipment. For example, if your injection-molded part is changed, you may need new molding tools. You may also need changes to specialized machinery. As we have learned above, changes to the machines may require changes to the standard. And a changed standard in turn requires re-training. All of this will cost money.
You should also not forget the additional paperwork. New parts require new part numbers, testing, and documentation. You have to phase out the old parts and introduce the new parts. Excess old stock may have to be scrapped. It can be quite an effort similar to the introduction of a new product.
Summary
Overall, when solving a problem or generally improving a system, see if you can do it through training. If not, see if you can do it by updating the standards or improving the layout. If not, see if you can improve the machines and tools. Only if all else fails should you consider changing the product.
Unfortunately, sometimes you need to go for the expensive options. Not all problems can be solved through training and standards. Sometimes you may also need a combination of actions to achieve the goal.
The above recommendation is also not a strict rule; it has quite a bit of leeway. There may be situations when changing the machine may be cheaper than changing the standard for the same results. An example may be a broken part of a machine, in which case you should of course fix it, which may not require a change to the standards. And sometimes, a change in the product design is just the best option. But please do not automatically change the machines or the product without first checking whether training or a change to the standards would have solved the problem. Now, go out, solve your problems and organize your industry!