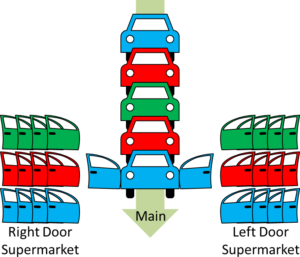 I frequently get requests to use images and illustrations from my blog. I am very open to others using my images! Most of my own images are under a free Creative Commons license by default.
Click on the image you are interested in on my blog. This should get you to the attachment page. For example, look at my Door Assembly Supermarket Attachment page, the image of which is also shown here on the right.
On this attachment page you will find details on the author and the license. Here you have to see if it is an image by me or by someone else.
The image attachment page also has the link to the highest-resolution image that I have, details on the dimensions, and other information.
My Own Images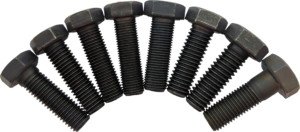 Almost all of my own images are under a free Creative Commons license, unusually the CC-BY-SA 4.0. The few exceptions include, for example, my logo or my portrait.
This license allows for any use, including commercial, but requires attribution and keeping the images under the same license.
If my image is under the Creative Commons license, just use it with the proper attribution, no need to ask for extra permission. An example for a proper attribution is shown below.
If the image is used digitally, link my blog, the image, or the blog post, and the Creative Commons license as part of the attribution (yay, backlinks!).
By Christoph Roser at AllAboutLean.com under the free CC-BY-SA 4.0 license.
Images by Other Authors
With images by other authors, you will need to check the details for the license on the attachment page. Use the images as permitted by their license.
I often use images with a type of Creative Commons (CC) license or other free license (Example attachment page). Whenever possible, I give the original source. There are different types of Creative Commons licenses.
Most require attribution (CC-BY).
Many also require you to keep the image under a Creative Commons license, even if the image is modified. This is abbreviated as share alike (CC-SA).
There are other license details like Non-Derivatives (CC-ND) or Non Commercial (CC-NC), although I avoid those.
I also use many images in public domain (Example attachmment page). These images may have expired copyrights, or the author explicitly made them available as public domain. Use these images in any way you wish, no attribution required (although it is nice to do so). Here, too, I usually give the original source, so you can follow up and find out more on the image.
Some images on this blog are copyrighted and used with permission by the copyright holder (Example attachment page). These could be stock photos where I purchased permissions, or images where I got the permission from others. These you cannot use. If you need them, you have to get permission yourself from the copyright owner.
I hope this page helped you in using the images on my blog. I see it as a compliment if someone thinks my image is good enough for reuse. And, since I also reuse lots of images by others under a free license or even in public domain, I also want to provide my images to others. Side note: Thanks to all the other authors who made their images available! Feel free to ask me if anything is unclear.