In my last post I looked in detail at an example of a workplace accident with Alec Baldwin, where a misfire in a gun killed a coworker. It seems quite a few failures and oversights had to come together to result in the accident. This is the same in industry. A major injury is rarely the result of a single mistake. Modern industry has plenty and often redundant safety mechanisms to prevent accidents. Yet accidents do happen. Let's look deeper into workplace safety!
Introduction
Workers want to have a safe workplace. This is true regarding injuries, but also general and long-term health risks, both physiological as well as psychological, although this post focuses more on injuries. In any case, workplace safety should be an important topic for workers.
As for employers, the picture is more mixed. Historically, a lot of employers saved money on safety, and any risk of accident was the risk for the employee. Machines were often better treated than employees, since an employee was easily replaceable, whereas a machine costs money to fix or replace. Especially in poorer countries, this may still apply. One historic example shown here is the sixteen-year-old Harry McShane, who lost his left arm from the shoulder down in a machine in a spring factory in 1908. The employer paid neither compensation nor any hospital bills.
In the civilized world, governments have since then stepped in and enforced health and safety regulations. In the US there is, for example, the Occupational Safety and Health Administration (OSHA), but most countries have one or more similar organizations, although not all of them are always effective. But if this works, it makes poor safety much more expensive for the employers. Employers who slack off on health and safety often face high punitive fines. As a curious result, in some plants management pays much more attention to health and safety than the employees.
Preventing Accidents
In industry, you should prevent or minimize risks. There are quite a few overarching health and safety management systems that give you lots of details on how to do this. In Germany, for example, there is a free download for the OHRIS system. This post is only a brief introduction, and if you are serious about safety you should not rely only on this blog post!
This may start with first applying all legally required measures. Next, you should find out any risks that still exist, and reduce or eliminate these risks. Depending on the severity of the potential accident, you may use redundant measures to reduce the risk for your employees. Ideally, the process is changed so that a risk is completely eliminated. For example, a CNC milling machine may be completely enclosed, and work only if the doors are properly closed. This prevents broken tools or metal chips from injuring bystanders.
If it is not possible to eliminate the risk, you should reduce the risk. This often involves training on proper health and safety procedures. For example, a lathe operator must not wear loose clothing and must have short hair or the hair put up to prevent entanglement with the lathe that otherwise leads to some of the most gruesome deaths in industry.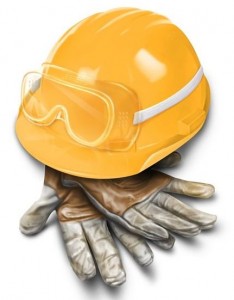 If things do go wrong despite these actions, the next (and often the last) effort to mitigate the damage is the personal safety equipment (safety shoes, glasses, and the like).
And, if even that did not prevent injury, you better know where the next first aid kit is, hope that it is up to standard, and know how to use it.
Managing Accident Prevention
A key part in preventing accidents are both the workers AND the managers. The workers should follow safety protocol, and report or stop if anything is amiss. Managers and workers together should improve the safety of the workplace.
And, managers should verify that technical solutions for a safe workplace are functioning (sometimes the workers disable them for convenience 🙁 ), that the workers indeed follow the safety standards, and that they wear their personal protective equipment.
If the worker fails to follow safety protocol, managers need to enforce it, first nicely, later not so nicely. In Germany, where firing an employee is legally difficult and hence rare, repeated failure of an employee to follow safety protocol is not only a cause for terminating employment. Managers MUST terminate the employment for the safety of the employee. There have been cases where an employee repeatedly violated safety rules, and management did nothing. When the employee eventually got injured, management was on the hook and legally liable for not firing the employee. Like most processes in industry, the ultimate responsibility lies with management for setting up a system that works.
How to Identify Safety Risks
How do you identify safety risks? That is easy. They are often marked in red. Whenever a person bleeds or otherwise gets injured, then you have a safety risk. It is often said that safety rules are written in blood – since the rule was created after a person (or multiple people) got injured or died.
Since it is preferred to prevent an accident with foresight rather than preventing a reoccurrence in hindsight, learn from the mistakes of others. Most safety rules, regulations, and best practices were learned the hard way when someone got injured. Follow these rules to prevent injury in your plant.
In some industries this is a major activity. If a plane crashes or even has only a near miss, the Federal Aviation Administration (FAA) and other similar bodies investigate thoroughly what exactly went wrong, and how to prevent it from happening again. (Movie tip: Sully with Tom Hanks covers the crash and investigation of US Airways flight 1549 in the Hudson River. However, the film very unfairly portrays the National Transportation Safety Board [NTSB] investigators as the bad guys, when in reality they were much more supportive and understanding).
Even better, accidents often don't happen by surprise, but have a sequence of dangerous situations, near misses, and minor events that precede them. This relation is often presented as an accident triangle, showing how many near misses or close calls lead to how many minor accidents, major accidents, and facilities. One example is shown here. Don't get too hung up on the numbers, as different studies have different numbers (it seems working in confined spaces will kill you quicker if something goes wrong, whereas the UK is generally better at preventing fatal accidents [or under-reports the non-fatal ones]).
But the idea is clear, lightning does not strike from a clear sky, but often has many close calls that precede it. The deadly firearm accident on the movie set with Alec Baldwin had two misfires (near misses) and one injured foot (minor accident) before eventually someone died. There were literally three warning shots before the cinematographer died! Don't make the same mistake. Act on near misses and minor incidents, or sooner or later one of you people will be dead.
Anyway, this was only the briefest of introductions on workplace safety, a – literally – life-or-death topic. Now, go out, ponder where your plant had its last near miss, prevent it from killing someone next time, and organize your industry!