Job shops have a strong tendency toward chaos. Even well managed plants struggle to maintain order in a job shop. This is due to the inherent nature of a job shop, and there are no good solutions to manage job shops. The only good way to improve a job shop is to turn it into a flow shop. I will talk more about such changes later in this short series, but first let me explain why job shops are always a mess.
Flow Shop, Project Shop, Job Shop
There are three main groups of material flows in manufacturing. First, there is the flow shop, where the main material flow is the same for all products (i.e., all products have the same process sequence). Second, there is the job shop, where the material flow is different for all products. Finally, there is what I call the project shop, where all material flows to one process only. This is not that common, but can be found, for example, in shipbuilding, where everything comes to the ship in the dry dock. Please also note that these types of material flow have a large overlap. There are plenty of flow shops where some material has exceptions, and plenty of job shops where there are small stretches of flow-shop-like behavior.
I have written about flow shops, job shops, and project shops before, but flow shops are usually much, MUCH easier to plan and manage. Let me show you why job shops are such a source of chaos.
Irregular Material Flows Cause Inventory Imbalances
One of the main causes of problems typical to a job shop are irregular arrivals. Below is a hybrid between a flow shop and a job shop, to illustrate the point. Material flows from left to right, but may be processed by different machines at different steps. I use this hybrid, rather than a full job shop, to make the points easier to understand, but trust me, it is worse in a full job shop.
Furthermore, to simplify the argument, let's also assume that the processes are nicely balanced and every part can be processed at every machine, and also let's assume not to have any randomness. (Yeah, absurd, I know. But it is the privilege of professors to make unrealistic assumptions so that it works in theory. 😉 ) Anyway, on the first column a part arrives at every process every 12 minutes, hence our arrival takt is 3 minutes. The first column of processes can process a part every 12 minutes, which gives these four processes together also a takt of 3 minutes. The second column of processes needs 9 minutes per part and process, which gives also a takt of 3 minutes. The third column needs only 6 minutes per part and process, again for a takt of 3 minutes. And the last column needs again 12 minutes per part and process, for a takt of … 3 minutes.
Hence overall, the processes in this example are nicely balanced, with every stage of these four process columns having the same capacity. If you would be producing water, it would flow though the system at the same speed without being slowed down.
Unfortunately, you are not producing continuous goods like water, but discrete goods like parts. Hence, you will sometimes have two parts arriving at the same time at the same process, and sometimes none. Even with the best distribution rule, you will have more material at some spots and less at others. The material distribution is uneven.
The above example also assumes every part can be processes by every machine. If we would have the restriction that some parts can be processed only by some machines, the "clumping" of material will quickly become even more pronounced as shown below.
And, remember, this is a perfectly balanced system without any randomness (i.e., my theoretical example). If you add random events (breakdowns, short delays, etc.) and make the system imbalanced (you have a bottleneck that may also depend on the part mix produced), it will become even worse.
The point here is that depending on the arriving product mix, the arrival of material at a process is fluctuating widely. One process may have multiple parts arriving almost simultaneously, whereas other processes may have none. If more parts arrive than what the process can handle, the material starts to pile up. If less arrive than what the process can handle, the pile will shrink and eventually disappear, causing the process to idle.
Inventory Imbalances Cause Large Safety Buffers
Having clumps of material in your value stream is not good. But for the shop floor, often even worse are idling workers. A worker that is unable to work due to a lack of material is waste. To be more specific, it is the waste of waiting as part of the seven types of waste (muda).
To prevent or at least reduce such waiting times, the inventory in front of the processes is increased. If there is more inventory, the likelihood of having to wait is reduced … but at the cost of increased inventory.
Inventory Imbalances Cause Changes in Staffing
Imbalances in the workload can be buffered somewhat by inventory. Larger imbalances, however, eventually require some processes to work more than others in the long term. This is usually done by reassigning workers. If a process is running out of parts, the workers are reassigned to an process that has way too many parts. In a flow shop, workers often work for longer periods at the same spot, changing the location only at predetermined times.  In job shops, such changes are much harder to predict. It is usually impossible to have a preventive planning of the staffing, but only a reactive action. If the process runs out of parts, you check where the workers are most urgently needed (and qualified to work at), and reassign the workers there.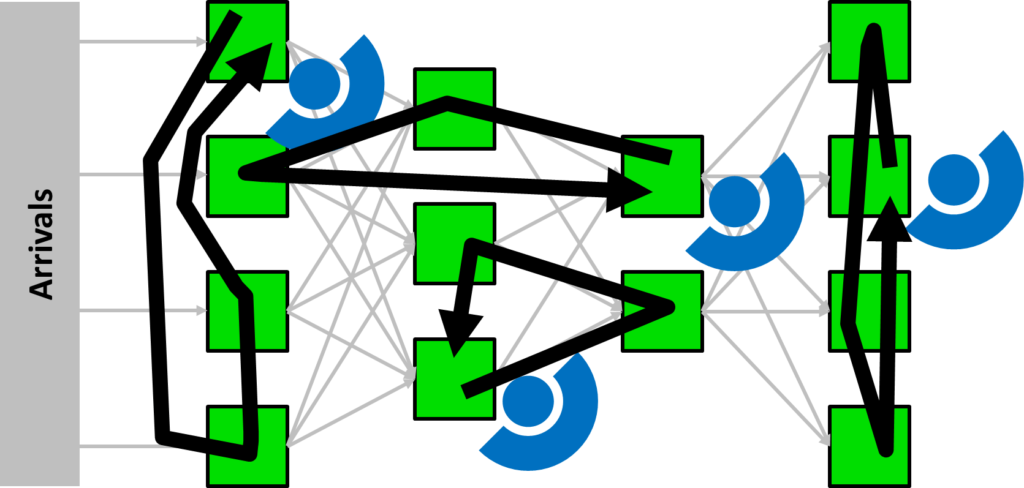 In my next post I will continue to lament about the woes in a job shop … which unfortunately does not help you much except that I know your pain in managing a job shop. In the post after that, however, I will look into how to transfer a job shop into a flow shop. Now, go out, wrangle with the multi-headed hydra that looks like a job shop, and organize your industry!
P.S.: This blog post was inspired by a part in a video presentation by Nampachi Hayashi, which I found through an article by Dirk Fischer. Thanks to all. 🙂
Series Overview