Work standards are a key component to continuous improvement. A standard is a tool that (if used correctly) prevents drifting away from a best-practice approach to do a task. Hence, I sometimes read that everything needs a standard. However, I don't quite fully agree with this. Let me tell you when standards are helpful, and when maybe not.
Introduction
I have written an extensive nine-post series on work standards, in addition to the related standard work for organizing the process sequence. The objective of a standard is to provide a clear depiction of a task, deconstructing it into distinct stages. It ought to encompass all relevant elements, with a particular emphasis on those linked to safety and quality. A standard can encompass visual aids, textual explanations, or a combination of both. While it should include all necessary details, it also should strike a balance between too much and too few details.
When to Use or Improve a Standard
Work standards are best for repeatable processes. The higher the repeatability, the easier it is to write a standard. It is said that a good takt for a standard is between thirty seconds and two minutes. For a longer takt you need to draw more on the experience of higher-skilled operators. For example, machine tools and airplanes often have a takt of eight hours or more.
Standards are most frequently written or improved to solve a problem. Where in your area of responsibility are your biggest problems with repeatable tasks? Is it quality? Cost? Time? Or, hopefully not, safety? If you have multiple possible standards that you could or should write, I find an impact effort matrix helpful. Estimate the possible impact of the improved standard versus the effort to achieve it. Select a problem that is relevant and gives a good benefit for the invested effort.
In the (hopefully not too) long run, of course, every repeatable process of some complexity should receive a standard. Here, too, you should start with the most critical processes where a standard could give you the best improvement for the effort.
When (Probably) NOT to Use a Standard
Standards aim to improve your processes. In a perfect world, all of the actions going on in your shop floor have standards. In a perfect world, these are updated and improved at regular intervals. I read every now and then the advice to standardize everything. But this is not good.
Instead, this is wishful thinking. Realistically, you probably don't have time to write all of these standards, let alone improve them regularly. Standardizing the cleaning service emptying your trash can have potential, but you may have more pressing issues at hand (albeit the guy emptying my trash can during my sabbatical at Keio University had some serious skills!).
You should not write a standard for a process that is not repeatable or has high variability between repetitions. Standards describe a set of actions. The more these actions differ at every interval, the fuzzier a standard will be. If you assemble a car engine, you can have detailed standards for every step. If you design a new car engine, you have at best some high-level standards, but all the details of the problem solving and product development cannot reasonably be standardized. One common task that is hard to standardize is leadership and management. Managers solve problems and make decisions, but these vary every time. A standard like the common buzzword "leader standard work" is at best a high-level checklist like "attend the shop floor meeting every day," but this is a far cry from a proper work standard.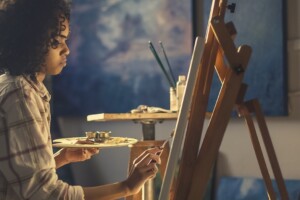 Very related are tasks that use significant human creativity. If you are an artist like a painter or sculptor, you may have some standards on how to prepare the paint or set up the marble. However, the actual creation of the art is an act of creativity. If you want to standardize this process, you better get a copy machine or a printer rather than an artist.
Similarly, standards are not always helpful for tasks with very low repetitions. Creating and maintaining a standard is a lot of work. The benefit comes from using the standard repeatedly. If you use the standard only a few times, you may get little benefit out of the creation of the standard. In the extreme case, if you produce a part only once, you may not even be able to do a proper standard, as you would need repetitions to improve the standard.
However, standards can be part of individual processes within a larger process. If you build yourself a custom house, the installation of the electricity and other building codes are of course a standard. However, you would not write a detailed standard on how to create the entire house besides the blueprint. Furthermore, in some cases the impact of the standard on quality and performance can be so significant that standards sometimes are created even for very few repetitions. The Saturn V moon missions had detailed standards and procedures for the entire production process and many eventualities, and the participants were trained in the use of these standards. However, this was also insanely expensive, with multiple rockets launched for the development process before actually landing on the moon.
Finally, and probably the most common reason for not writing a standard is a lack of resources—or more properly, the decision to invest the resources into more pressing problems. If a consultant advises you to standardize everything, they don't have to do it themselves and won't foot the bill (on the contrary, they write a bill for you). As a manager, you will always have limited resources on time, manpower, money, and material. You have to decide where to invest these resources to generate the best benefit for the company. A lot of these resources will go into development and production. Hopefully a significant chunk will also go into improvement. Administration will also hog (more and more of?) these resources. Standards can help you to solve problems and maintain the (current) best practice. But you don't have the resources to solve all problems. Start with the most urgent ones, and postpone the less pressing issues to a later day. It would be nice to have a good standard for emptying the trash can, but it is probably not the most urgent issue on your agenda.
Having said that, please do not use my words as an excuse to avoid standards. Standards are VERY helpful and useful, and not using standards at all would be gross neglect in most cases. If you lack the resources for creating standards everywhere, it merely means that some standards will be created later than others. I am merely trying to help you to figure out where to best use standardization, and where probably not. But YOU DO NEED STANDARDS! Now, go out, set up standards where they are sorely lacking, and organize your industry!