One of the most significant insights of the Toyota Production System is its concept of pull production. While often misunderstood, the essence of pull production is a clearly defined limit on the work in progress. Push or pull actually has nothing to do with the direction of the information or material flow. But why does this limit on work in progress make so much difference? Why do pull systems vastly outperform push production systems?
Effect of Inventory on Performance
The optimal state of many performance indicators often is either the maximum (e.g., productivity, delivery speed) or the minimum (e.g., defects, cost…). Inventory, however, is different. Too much can be as bad as too little, and you would have to find a sweet spot with just the right amount of inventory.
Too Much Inventory
Inventory is one of the seven types of waste (muda) in lean production. Having too much inventory has many negative side effects and hidden and not-so-hidden costs. Besides the obvious tied-up capital, there is storage, handling, taxes and insurance, administration, obsolescence, and theft.
On top of that, and probably as bad as all the previous, a large inventory makes you sluggish. If the customer demand stays constant and you increase your WIP, all parts have to wait longer until they reach the customer. Hence new products or new orders will take longer to reach the market. Yet especially in today's fast paced business, companies can ill afford to delay their deliveries.
Overall, both the expenses and the delays will cost you anywhere between 30% and 65% of the value of the goods per year. While I am not sure if all companies have understood this expense associated with inventory, many are reducing their inventory, even if all too often the reason is simply because Toyota does it too.  However, simply reducing the inventory brings up another problem, as we will see next.
Too Little Inventory
In any production system there are fluctuations. Different products are produced, parts may arrive early or late, processes will take longer than expected or will be faster, or workers may be available or not. In essence, material does not flow at an even speed, but often comes in waves, sometimes faster and sometimes slower.
This is especially true if you do not look at the total inventory, but at each individual part number. When you produce one product, you have a large demand of parts for this product. If you produce another product afterward, you may no longer need the first parts but a different type of part. Hence, your material flow on a part number basis is uneven. The effect is similar with other disturbances.
To cancel out these uneven demands, inventory is your friend. The buffer inventory going up and down like waves allows the machines and workers to work at a constant speed, and will provide the customer with material despite a fluctuating demand.
However, if you cut your inventory, you will have a problem, since you can no longer decouple these fluctuations using inventory.
Besides inventory, there are two more ways you can handle fluctuations. After inventory, the second option is capacity adjustments. You ramp up your capacity when needed and reduce it when not. However, this is often unfeasible on short notice in a highly volatile modern production system.
If you cannot use inventory or capacity to handle these fluctuations, by default the third option will apply: time! Your manufacturing system will have plenty of waiting times. Workers, machines, and customers will all be waiting for material. The more you cut inventory, the lower your utilization and production rates will be. Altogether, your fixed cost will go up since you have lots of machines that you do not use.
If you reduce your inventory too much, your efficiency goes down and your fixed cost goes up. This can soon be more expensive than the buffer inventory in the first place. To add insult to injury, your inventory won't really go down that much either! If the system lacks the internal capacity due to lack of material, but you still order parts like you have full capacity, you will end up with piles of material anyway. Except that it is mostly the wrong kind. If you need 100 parts to make a product, you will have 99 on hand but 1 is missing. Hence 99 parts are lying around and cannot be produced.
Just the Right Amount of Inventory
Overall, too little inventory can be as bad or even worse than too much inventory. Hence, somewhere in between there is a sweet spot where your total cost is minimal. For simplicity's sake, the graph below shows the total cost as a sum of the inventory cost and the fixed costs, although in reality it is a bit more tricky with some more costs involved.
Your system works more efficiently if there is not too much but also not too little inventory! Of course, finding this exact spot is difficult, and it is pretty much impossible to calculate with any practical accuracy, but luckily this spot is usually a wider valley. Therefore, having a small bit more or less does not have such a drastic impact. Also, please remember that such a sweet spot is not static. It can change by itself, or – much better – you can change your system to move the sweet spot to an even sweeter spot 🙂 .
By the way, while most companies understand than lean production involves a reduction of inventory, they often miss the point that the system has to be improved too.  Wannabe-lean companies that simply reduce inventory even past the sweet spot have too little inventory and should actually increase inventory. Also, do not forget that it is possible to change the curves by improving (or worsening) the system itself.
Effect of Pull Production
It puts a cap on WIP!
The great thing about pull production is that it limits the work in progress. As explained in my last post, the (True) Difference Between Push and Pull is not the information flow or where the information comes from. The difference is that a pull system has a clear upper limit on the work in progress, whereas a push system does not. Hence the superior performance of pull systems comes directly from the cap on WIP, since it allows manufacturing systems to maintain an inventory close to the sweet spot.
It does it automatically
Having a pull system in place is like having an automatic system that keeps your inventory below a certain limit, no matter if you implement pull using kanban (high volume, low variety), CONWIP (low volume, high variety), any combination thereof, or even a more exotic drum buffer rope system. If the system is working, it needs only a little maintenance to check for lost cards or to update the number of cards if the system is changing.
Suited for almost any production system
Pull systems are suitable for almost any production system, no matter if you are mass producing a few part types (high volume, low variety) or customizing every individual product (low volume, high variety). It works with flow shops and job shops, and even with construction sites (limit the number of construction sites to your capacity). It works for big and small parts. Pull can be implemented for discrete parts (things you can count like screws or cars), for continuous production (chemicals, oils, gases, …), and even digital calculation and information processing. Pull can be used in administrative processes, product design, and even in hospitals (but you have to get the prioritization process right for the last one!).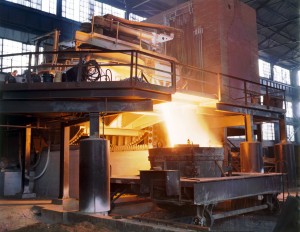 Pull would work for pretty much any production system. There are very, very few production systems where push is better than pull. One example would be the manufacturing of integrated circuits, where each part passes through the process repeatedly and the process has very little variation. In this case, a good push system is marginally better than pull.
Another example would be processes where it is quite expensive to shut the process down, as for example the crucible of a steel furnace or some chemical process industries. In this case you prefer to run the process even if the demand goes down, because the inventory increase is still cheaper than the shut down of the process. Of course, if you can sort-of hibernate the process without production, it may also be an alternative.
Inventory can still fluctuate, but that's fine
Please note that while in pull production the inventory levels have a cap, inventories still can fluctuate. For example, with kanban systems, theoretically all of the kanban could be sitting in the supermarket with its associated material, and we would have max WIP. However, it is also possible that all cards are waiting for production and our WIP would be zero. Of course, in reality it is usually something in between.
This fluctuation is fine. The kanban formula and the alternative kanban estimation approach determine the number of cards needed to operate smoothly, but average WIP will usually be much less than the sum of the kanban cards.
It is Robust!
There are different ways how to control your production system. You could plan using available capacity and required deadlines, which would be the conventional push approach. Unfortunately, both capacity and deadlines are usually rather volatile and can change quickly. Hence, planning ahead is difficult, and frequent changes to the production plan are needed to match changing requirements. Overall, it is very tricky to plan using conventional push production.
With pull production, however, you merely plan the limit on WIP (and maybe prioritize which part to produce next). There is no need to plan the capacity in detail, nor the deadlines as long as your system is fast enough .Additionally, the system is very robust against the limit on WIP. It doesn't matter if your limit is a bit too high or a bit too low, in all likelihood your system is still going to work fine, even if you haven't hit the perfect WIP levels. Small changes in the WIP limit do not lead to larger changes in the performance. Hence, pull production is overall very robust and insensitive to fluctuations in the system.
Summary
Hence, overall pull systems are so great because they have a cap on inventory and can – if set up correctly – keep the inventory close to the sweet spot between too much and too little inventory. Pull systems can do this regardless if they are set up using kanban, CONWIP, or any other method for inventory caps. They can be applied to almost any production system. Hence, if you have the chance to change your system from a push system to a pull system, it will help you to get your industry organized!