One of the key differences in lean production is to use pull production rather than push production. While pretty much everyone knows (at least in theory) how to implement it using kanban, the underlying fundamental differences are a bit more fuzzy. But what exactly is the difference between push and pull? Also, what makes pull systems so superior to push systems?
It turns out that most definitions are going in the wrong direction. Even the names "push" and "pull" are actually not well suited to describe the concept. Neither are common illustrations, including the one here in the upper left.
What It Is Not! – Common Misconceptions
Let me start you with a selection of different definitions of push and pull that I've found online. For each of them I selected one actual quote, although many more similar definitions could be found.
Misconception 1 – Make-to-Stock and Make-to-Order
"Push type" means "make-to-stock," in which the production is not based on actual demand. "Pull type" means "make-to-order," in which the production is based on actual demand. (Lean Manufacturing Japan)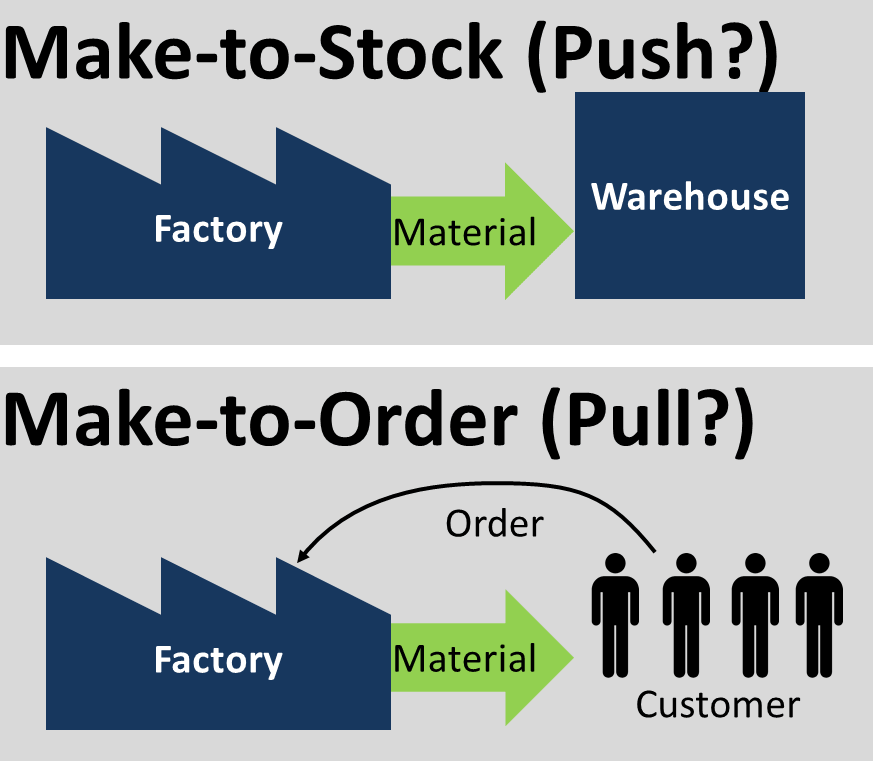 Often, push and pull are (incorrectly) explained through "make-to-stock" and "make-to order." Supposedly, a push production creates products without having a specific customer request (make-to-stock). A pull production supposedly produces only if there is a request for a product by the end customer (make-to-order).
That is a simple but very flawed view of the difference between push and pull. Even Toyota produces some of their cars without a specific customer order, instead building up stock of popular models for walk-in customers. Hence, it is perfectly possible to produce make-to-stock using pull production.
On the other hand, using this definition, pull production would be centuries old, since make-to-order production is a very old concept. Every cobbler before the Industrial Revolution made shoes only if a customer requested them. However, these cobblers were anything but lean, and were usually surrounded by piles of material.
Sometimes it is attempted to correct the above definition by stating that the "order" in "make-to-order" does not have to be an end customer, but could be a stage in between. However, even for make-to-stock, somebody somewhere has to give the order to start producing. In this case, this "somebody" would be the customer, and any make-to-stock would be identical with make-to-order.
Misconception 2 – Market Forecast vs Actual Demand
Push Manufacturing: manufacturing activities are planned based on a market forecast[...]. Pull Manufacturing: manufacturing plan is based on actual customer demand. (Lean Enterprises Blog)
[Pull] means that no one upstream should produce a good or service until the customer downstream asks for it. (Womack and Jones in in Lean Thinking)
This (incorrect!) definition uses slightly different words but is otherwise similar to the make-to-stock and make-to-order definitions above. As shown by the second quote, even the best lean thinkers are muddled on this topic.
Misconception 3 – Direction of Information Flow
The difference between push and pull is the direction in which information and orders are forwarded. Push has a central logistic plan. Pull has an information flow opposite of the material flow. (Item24.de, translated by me)
Often, the main difference between push and pull is seen as the difference between having a central logistic plan or information directly from the customers. If there is a central logistic plan, it is supposedly push. If the orders come directly from the customer, it is supposedly pull.
Yet here we have again the same problems as before. The logistic plan is not created out of thin air, but based on the demands of the customer. Depending on the customer demands and the lead time, the logistics department starts make-to-stock or make-to-order production.
Also, while a functioning kanban system is a pull system, it does not necessarily have to be based on paper kanban cards. A kanban system can also be digital using an ERP system, in which case the logistic plan would create its orders based on kanban. Hence you would have a pull system with a central logistic plan. Therefore this definition of push and pull does not work either.
Misconception 4 – MRP and Kanban
Push is MRP, pull is kanban (not really a quote, but often heard in industry).
Of all the views of push and pull, this one is at least partially correct. A well-implemented kanban system (i.e., not just a plant where every paper is miraculously called "kanban") is indeed a pull system. However, it is not the only possible way to create a pull system. You could also use, for example, CONWIP.
Similarly, MRP can also be set up as a pull system using electronic kanban or similar methods. Hence, it is entirely feasible to implement pull using MRP.
What Is Really the Difference between Push and Pull?
All of the definitions above fail to capture the true essence of a pull system. The confusion probably stems from the rather unfortunate names "push" and "pull," which are actually misleading. Regarding the true difference between push and pull, Hopp and Spearman are right on the money:
A pull production system is one that explicitly limits the amount of work in process that can be in the system. [...] a push production system is one that has no explicit limit on the amount of work in process that can be in the system. (Hopp and Spearman "To Pull or Not to Pull")
Yes, if you explicitly limit your work in progress (WIP), it is a pull system. If not, it is a push system. It has nothing to do with physical pulling or pushing of material or information.
For example, a kanban system has a fixed upper limit on the work in progress. You cannot have more material than what is allowed by the number of your kanban cards. This limit is explicitly defined (the number of kanban cards).
Of course, any shop floor has an upper limit. If all available space is crammed full with WIP, at one point the shop will stop production. However, this limit is not well defined as it depends on the creativity of the logistics people to find more spaces to put stuff. Additionally, this limit is usually much more than any sensible kanban system would allow.
A true pull system starts production only if the WIP limit has not yet been reached. For example, in a kanban system, if there is material in the supermarket at the end the customer can take a part, and a new order is released. If there is no material, then all the WIP allowed is already in the queue. The customer gets no part, and no new order is released.
Similarly for CONWIP systems, a backlog of open orders is only started if there is a free CONWIP card available (see Basics of CONWIP Systems for details). While an order is not rejected in a CONWIP system, it still has to wait until a WIP slot in the form of a free CONWIP card is available.
Summary
Overall, most sources and most practitioners define push and pull incorrectly, probably because the names "push" and "pull" are actually quite misleading. This confusion is quite unfortunate, since pull is one of the key elements of a successful production system. The main difference is the WIP limit. If you have an explicit WIP limit in your production, you have a pull system and hence have access to all the benefits of a lean pull production. If there is no explicit limit on WIP, it is a push system. See also my posts Different Ways to Establish a Pull System – Part 1 and Part 2.

I hope this was insightful for you. Now go out, limit your WIP, and organize your industry!
Selected Source:
Hopp, Wallace J., and Mark L. Spearman. "To Pull or Not to Pull: What Is the Question?" Manufacturing & Service Operations Management 6, No. 2 (April 1, 2004): 133–48. doi:10.1287/msom.1030.0028.
P.S. A Russian translation by Valery can be found here: Настоящая разница между выталкиванием и вытягиванием