Leader standard work. Sometimes also called standard work for leaders.  A term that floats around quite a bit in lean manufacturing, but I always find it hard to make it more specific. The idea follows the lean concept to standardize things, and tries to standardize the work of managers or leaders. The idea itself is not bad, but it always feels like nailing Jell-O to a wall. There are definitely some worthwhile elements, but sometimes it appears almost mystical. Let's have a look:
Introduction
Work standards describe work in the necessary detail. Their purpose is for operators to do good work and to not miss a critical step, and for managers to be able to verify if the worker follows the standard. It is usually a list of steps. On a bigger scale, work standards help to reduce fluctuations (mura), and improve quality, cost, speed, or safety, i.e. reduce waste (muda).
Most work standards are for frontline workers actually working on the products. The idea of leader standard work is to extend this standardization to supervisors and managers in order to also reduce fluctuations and waste. So far, so good.
What Works
Let's start with the easy part: where standards actually work for managers. A work standard is useful only for repetitive work, or for the parts of the work that is repetitive. It is useless for work that is different every time. Managing others by its nature includes a lot of tasks that are not repetitive. More on that later.
But the repetitive tasks do benefit from standardization, also for managers. Hence, it is quite feasible to create standards or checklists for these repetitive elements. These could be work that is only for the managers, or it could be work that the manager has to do just like everybody else. A few examples:
The plant manager has to attend a shop floor meeting every morning when he is in-house. The departments are Monday casting, Tuesday milling, Wednesday assembly, Thursday sheet metals, and Friday electronics.
The shop floor manager needs to check and sign off the standardized production sheets for all departments daily.
Business travel has to be requested using "Travel Request Form 2241."
What Makes Standards for Leaders Difficult
Standards for leadership are more difficult than standards for operators. I already mentioned that the share of repetitive work goes down as you climb up in the hierarchy. This is often combined with the standards becoming fuzzier. If you assemble a product, there is one place where a component must go, and it is easy to verify if it is there or not. Hence, verifying the standard has a clear yes/no answer. If a standard requires managers to treat people with respect, how do you verify that? It is nearly impossible to give a clear yes/no answer, but you will end up with a wish-washy gray zone in between. Difficult! But there are even more problems.
For one, people usually do not like to be told how to do their work. This increases the more huff-puff-important a person is. Managers are more opposed to people telling them what to do than workers. This also depends on the culture in the company. In some companies, you need to always know everything (or at least pretend to do so) in order to make a career. Someone telling the manager how to do their work implies that the manager did not know how to do it before, which will hurt their career aspect.
For a historic example, Frederick Winslow Taylor (1856–1915) is well known for Taylorism, standardizing the work of operators. The American Society of Mechanical Engineers (ASME) took note and liked his idea. They elected him as their president in 1906 in order to reorganize themselves. Taylor got to work and started to tell all those important doctors, professors, and other huff-puffs how to do their work. This did not go down well. He got kicked out after less than one year. The ASME, which before his presidency regularly published papers about Taylorism, published almost nothing about him and his work afterwards. That's what you get for telling important people how to do their work…
Finally, a standard needs to be verified by and occasionally observed by a manager. This, naturally, should be a manager from a higher hierarchy level. Yet, the higher up you go, the further away managers are from the real work, and the less time they have. Eventually at the top there will be nobody above the CEO. Overall, it is difficult to verify the correct use of a standard for managers by a higher-up manager.
What Does NOT Work
So far, the parts of leader standard work described above is pretty much a normal work standard, with the limitations that come with management tasks. But some sources for leader standard work go further, and that's where it becomes more mythical than practical.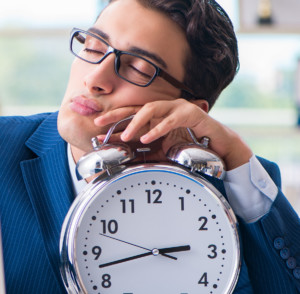 First, a work standard is a set of instructions on how to do a task. Standard work (or standardized work) is bigger, trying to fit the task in a takt time. It includes the customer takt, an analyses of the available capacity, line balancing, line layout, before eventually creating a work standard.
Please tell me, what is the takt time for managers? How many minutes per decision is their customer takt? Or what is their capacity in decisions per day? How does a management decision line layout look like? Overall, this does not work. While work standard and standard work are often confused, the additional parts of standard work does not fit well with management tasks. To me it feels like taking a (meaningful) buzzword (standard work), and applying it without understanding it.
But it gets worse. Some sources use "Leader Standard Work" to talk about leadership philosophy, general management behavior, going to gemba and using visual management, or, simply all of lean manufacturing. This is a meaningless mashing together of buzzwords. There is not even a good definition on what lean actually is. I believe lean is a culture, but I cannot even define it myself. What is the American/German/Indian/… culture? So, how on earth will you make a standard for a lean culture or philosophy??? Sorry, this is garbage.
Summary
In sum, management can benefit from using standards for repetitive tasks or the repetitive elements of tasks that can be described well. There are some difficulties, like managers always knowing better and having less supervision, but that works. Calling it "Leader Standard Work" for me is an unfortunate term since standard work includes, for example, a takt time, which does not work for managers. Including the whole lean philosophy and claiming it to be leader standard work is bad buzzword bullshitting. Hopefully this post helped you to pick the useful elements of standards for managers (please don't call it leader standard work). No, go out, not only create standards for others but also use standards for yourself if applicable, and organize your industry!
P.S.: This post was initiated by a question from Tom. Thanks for asking!
Series Overview